VSAC's Kingdom Career Connect at Northern Vermont University
– Lyndon Reflection
I spent this morning at Kingdom Career Connect on Northern Vermont University's Lyndon campus.  It felt good to be back in person after three years of virtual engagement in this VSAC-sponsored event. Twenty-seven workshops were offered to students in 7th and 8th grade featuring careers in fields as diverse as forestry, health care, engineering, outdoor recreation, and the building trades.  It was a comprehensive sampling of the employment landscape in the Northeast Kingdom.  Participants got to ask questions of practicing professionals and get hands on experience with the tools and processes used on the job.
It was a beautiful, peak-foliage day under a bright, clear sky. The hills were lit up in gold and russet hues. I thought about the timing of Kingdom Career Connect: October is Health Careers Awareness month in Vermont and I am grateful that AHEC is a partner in this event to help highlight health careers for young people.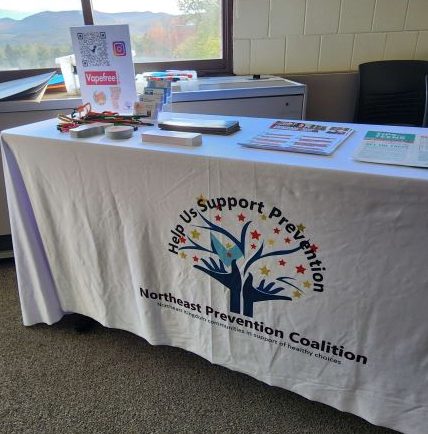 One of the workshops, led by Katie O'Shea, STEM and Career Awareness Coordinator at Vermont Afterschool, was at the intersection of a number of high-demand fields. Katie introduced participants to the engineering design process through a medical scenario. Students we asked to complete an engineering task – create a coating for a simulated pill that would stand up to stomach acid, called an enteric coating. It protects medication from being destroyed in the stomach, instead being released in the intestine where it is more efficiently absorbed. Teams could choose two of six ingredients to make a coating for a Skittle (playing the role of the pill). The coating was tested by dropping it into a glass of Sprite (playing the role of the acidic gastric juice). If none of the Skittle's color showed up in the clear liquid, the coating worked!
This activity provides an opening to talk about careers in biomedical engineering, pharmacy science, gastroenterology, and dietetics. It was developed in partnership with Northern Vermont AHEC. It is incredibly valuable to provide young people with experiences that let them explore their interests and aptitudes. It contributes to their early professional identity development. It informs their choices and their path through high school and afterward. It points to new questions and sparks curiosity.
AHEC brings health career exploration activities to young people from rural and underrepresented communities in Vermont. A key strategy to strengthen our local health professional workforce is to encourage and support the talent already here. Research has shown that people who are raised or educated in a rural or medically underserved community are more likely to practice in one when they become licensed.
If you work in a health occupation and would like to share your field with young people, consider reaching out to Northern Vermont AHEC. Our staff of skilled educators and health professionals can help you translate your passion into an interactive, hands-on activity for middle and high school students that can be presented at events like Kingdom Career Connect or the Governor's Institute on Health & Medicine, or for local students in your own community. We would love to help you share what you do and what lights you up about it!