VSAC's Kingdom Career Connect at Northern Vermont University
– Lyndon Summary
On October 4, 2022, Vermont Student Assistance Corporation (VSAC) put on Kingdom Career Connect, a multi-school event offering 7th and 8th grade students a chance to think about the future, explore new avenues, and engage in hands-on activities related to dozens of careers. This year, Kingdom Career Connect was back in person on Northern Vermont University's Lyndon campus. More than 440 students from 14 schools in the Northeast Kingdom attended.  Additional partners included Vermont GearUP, The J. Warren & Lois McClure Foundation, Careers CLiC, and Northern Vermont AHEC. [Consider tagging all partners, including NVRH & Vermont Afterschool]
Careers in biomedical engineering, health education, mental health counseling, and speech Language pathology were among the twenty-seven workshops offered.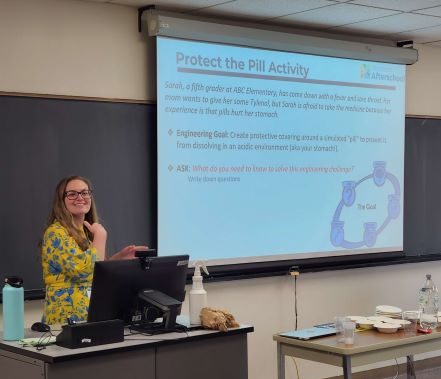 Carolyn Towne, Substance Misuse Prevention Coordinator [shown in photo] and Emily Delleman, Tobacco Prevention Specialist with Northeastern Vermont Regional Hospital and the Northeast Prevention Coalition led participants in a discussion and activities about the work of public health professionals who educate others about substance use, misuse, and abuse prevention.
Katie O'Shea, STEM and Career Awareness Coordinator at Vermont Afterschool led an activity that simulated a biomedical engineering task in pharmaceutical science called 'Protect the Pill.' Students experimented with different materials to create a coating that would stand up to stomach acid. This type of coating is used to allow for the release and absorption of medicine in the small intestine. This activity was developed in partnership with Northern Vermont AHEC.
It's never too early to start exploring health careers!  With over 350 occupations in the health and medical field, there's a health career for everyone.  Head over to VTHealthCareers.org to learn about some of the fastest growing health occupations in Vermont.